Traditional Turkey Stuffing

recipe
Thanksgiving dinner is only as good as the turkey. Make yours a success with this traditional recipe for roasted turkey with stuffing.
Ingredients:
1 stick unsalted butter
1 large onion, diced
1 apple, peeled, diced
2 stalks celery, sliced
1 teaspoon dried sage
1 teaspoon salt
¼ teaspoon black pepper
1 large loaf freshly baked white bread, torn into 1-inch pieces
1 cup hot chicken broth
½ cup raisins
1 (12-pound) turkey
Directions:
1) Melt butter in a large skillet over medium. Add onion and cook until translucent, stirring occasionally, about 3 minutes. Add apple, celery, sage, salt, and pepper; cook until softened, about 3 minutes, stirring.

2) Transfer to a large mixing bowl; add remaining ingredients and mix well. Stuff inside turkey, or bake alone, covered, at 350°F for 45 minutes.
Back to the Turkey Recipes home page.
Add a Review or Comment:
Reviews and Comments:
Comment by Gina on December 26th, 2011:
I would like to try this... what is the weight of a stick of butter??
Conversions
1 cup
about 237ml (236.59 mililitres based on 236.59 mililitres in a US cup)
½ cup
about 118ml (118.295 mililitres based on 236.59 mililitres in a US cup)
Data:
Published: November 2, 2010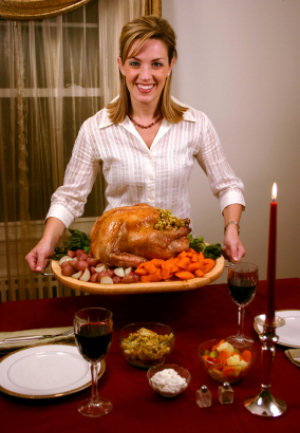 Similar Recipes:
Chestnut Turkey Stuffing
Take the extra effort to cook this recipe from scratch - freshly baked chestnuts lend a smooth, buttery quality to stuffing tha...
Turkey Stuffing Pie
Not quite a pie, but not quite a casserole, this satisfying dish is something in between. Filled with leftover turkey meat, a s...
All-American Turkey Stuffing
Spicy sausage, sweet apples, and savory herbs come together to create the classic turkey stuffing.