Chestnut Turkey Stuffing

recipe
Take the extra effort to cook this recipe from scratch - freshly baked chestnuts lend a smooth, buttery quality to stuffing that can't be reached with any other ingredient.
Ingredients:
2 pounds chestnuts
1 tablespoon vegetable oil
6 cups breadcrumbs or croutons
½ cup butter, melted
¼ cup minced onion
¼ cup chopped fresh parsley
1 teaspoon salt
¼ teaspoon black pepper
Directions:
1) Preheat oven to 400°F. Lightly grease a casserole dish.

2) Make 2 ½-inch slits with a sharp knife into the shell of each chestnut. Heat oil in a deep saucepan over medium; add chestnut and cook 5 minutes, stirring occasionally. Transfer to a baking sheet; bake 5 minutes. Remove and cool.

3) In a large mixing bowl, combine breadcrumbs, butter, onion, parsley, salt, and pepper. Set aside. Remove chestnut shells and skins using a knife. Squash the nuts and add to bowl of breadcrumb mixture. Place in prepared casserole dish, cover, and bake 35 to 45 minutes, until light golden.
Back to the Turkey Recipes home page.
Add a Review or Comment:
Conversions
2 lb
about 907g (907.18 grams based on 453.59 grams in a pound)
6 cups
about 1420ml (1419.54 mililitres based on 236.59 mililitres in a US cup)
½ cup
about 118ml (118.295 mililitres based on 236.59 mililitres in a US cup)
¼ cup
about 59ml (59.1475 mililitres based on 236.59 mililitres in a US cup)
Data:
Published: November 2, 2010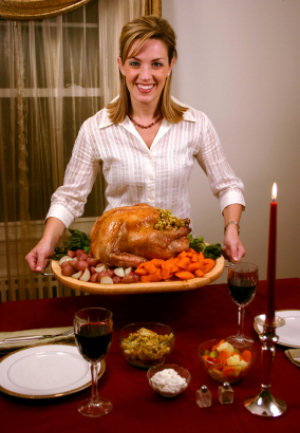 Similar Recipes:
Traditional Turkey Stuffing
Thanksgiving dinner is only as good as the turkey. Make yours a success with this traditional recipe for roasted turkey with st...
Turkey Stuffing Pie
Not quite a pie, but not quite a casserole, this satisfying dish is something in between. Filled with leftover turkey meat, a s...
Cheesy Turkey Burgers
Ground turkey is well known as a healthier alternative to the more traditional beef. This recipe involves stuffing the patties ...