All-American Turkey Stuffing

recipe
Spicy sausage, sweet apples, and savory herbs come together to create the classic turkey stuffing.
Ingredients:
3 cups bread cubes or croutons
¼ pound sausage, crumbled, cooked
½ cup chopped red onion
¾ cup diced red apple
½ cup chopped toasted walnuts
1 teaspoon dried rosemary
½ teaspoon dried sage
¾ cup vegetable or chicken broth
5 tablespoons butter
½ teaspoon salt
¼ teaspoon black pepper
Directions:
1) Preheat oven to 375°F. Lightly grease a 2-quart baking dish.

2) Heat a large skillet over medium. Add sausage and cook until browned, about 5 minutes Add onion and cook until translucent, stirring, about 4 minutes. Add apple, walnuts, rosemary, and sage; cook until softened, about 3 minutes, stirring.

3) Transfer to a large mixing bowl. Add remaining ingredients and mix well. Transfer to prepared dish. Cover and bake inside turkey or alongside in the oven 45 minutes. Serve with turkey.
Back to the Turkey Recipes home page.
Add a Review or Comment:
Conversions
3 cups
about 710ml (709.77 mililitres based on 236.59 mililitres in a US cup)
¼ lb
about 113g (113.3975 grams based on 453.59 grams in a pound)
½ cup
about 118ml (118.295 mililitres based on 236.59 mililitres in a US cup)
¾ cup
about 177ml (177.4425 mililitres based on 236.59 mililitres in a US cup)
Data:
Published: April 28, 2008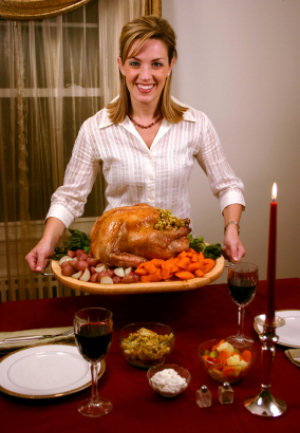 Similar Recipes:
Traditional Turkey Stuffing
Thanksgiving dinner is only as good as the turkey. Make yours a success with this traditional recipe for roasted turkey with st...
Turkey Stuffing Pie
Not quite a pie, but not quite a casserole, this satisfying dish is something in between. Filled with leftover turkey meat, a s...
Classic Turkey Soup
Fill your kitchen with memories of growing up and home-cooked meals with this turkey soup recipe. Fresh herbs, wine, and spices...