Turkey Stuffing Pie

recipe
Not quite a pie, but not quite a casserole, this satisfying dish is something in between. Filled with leftover turkey meat, a stuffing filling, and topped with a pie batter, this dish comes out simply spoon-worthy. A treat for the whole family.
Ingredients:
2 cups cooked turkey, chopped
1 cup chopped celery
½ cup chopped onion
1 teaspoon sage
½ teaspoon salt
½ teaspoon poultry seasoning
¼ teaspoon black pepper
1 cup pancake mix
1 cup milk
3 eggs
Directions:
1) Preheat oven to 400°F. Lightly grease a pie plate.

2) In a large bowl, combine turkey, celery, onion, sage, salt, poultry seasonings, and pepper. Transfer to pie plate.

3) In another large bowl, whisk together pancake mix, milk, and egg. Pour over turkey mixture. Bake 30 minutes, until golden and slightly crisp. Cool 5 minutes and serve.
Back to the Turkey Recipes home page.
Add a Review or Comment:
Conversions
2 cups
about 473ml (473.18 mililitres based on 236.59 mililitres in a US cup)
1 cup
about 237ml (236.59 mililitres based on 236.59 mililitres in a US cup)
½ cup
about 118ml (118.295 mililitres based on 236.59 mililitres in a US cup)
Data:
Published: November 2, 2010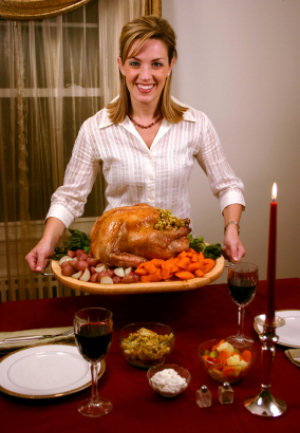 Similar Recipes:
Turkey Pot Pie
The perfect comfort food for a cold winter evening. Use up leftovers in this time-honored dinner classic, and add any extra veg...
Chestnut Turkey Stuffing
Take the extra effort to cook this recipe from scratch - freshly baked chestnuts lend a smooth, buttery quality to stuffing tha...
Traditional Turkey Stuffing
Thanksgiving dinner is only as good as the turkey. Make yours a success with this traditional recipe for roasted turkey with st...