Classic Turkey Soup

recipe
Fill your kitchen with memories of growing up and home-cooked meals with this turkey soup recipe. Fresh herbs, wine, and spices create a soothing, comforting broth.
Ingredients:
1 tablespoon butter
1 tablespoon olive oil
½ cup all-purpose flour
1 onion, chopped
1 celery stalk, chopped
1 carrot, chopped
4 cups chicken broth
4 cups water
1 cup dry white wine
Carcass of one turkey
6 whole peppercorns
2 parsley sprigs
1 bay leaf
½ teaspoon dried thyme
Directions:
1) Heat butter and oil in a large pot over medium. Add onion, celery, and carrot; cook until softened, about 6 minutes, stirring occasionally. Add flour and cook over low heat 3 minutes, stirring.

2) Add chicken broth, water, and wine; bring to a boil over high heat. Add remaining ingredients; bring back to a boil.

3) Simmer, partially covered, 90 minutes, skimming froth from surface as needed. Strain soup or serve as is.
Back to the Turkey Recipes home page.
Add a Review or Comment:
Data:
Published: November 2, 2010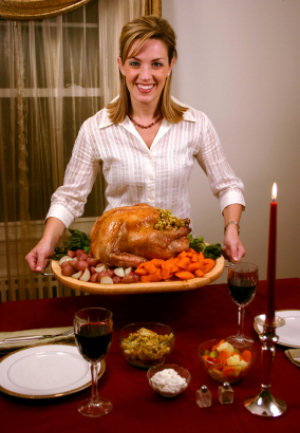 Similar Recipes:
Old-Fashioned Turkey Noodle Soup
This classic recipe is the perfect way to use up holiday leftovers. Start with the stock, which can take up to 24 hours to make...
Chipotle Turkey Wrap
A zesty and exciting take on a traditional turkey sandwich, this Chipotle Turkey wrap is versatile and easy to make. Leftover t...
Cheesy Turkey Burgers
Ground turkey is well known as a healthier alternative to the more traditional beef. This recipe involves stuffing the patties ...