White Bean and Turkey Chili

recipe
A surprisingly simple chili recipe, this White Bean and Turkey Chili uses dried herbs and white wine to create a sophisticated yet comforting soup that is perfect for the cold winter months. Use leftover turkey and canned beans for a quick and easy way to make this savory and delicious chili.
Ingredients:
3 cups shredded cooked turkey
3 large cans white beans such as Great Northern, rinsed and drained
1 large yellow onion, diced
1 tbsp minced garlic
4 cups chicken or turkey broth
1 tbsp Olive Oil
½ cup dry sherry or white table wine
1 tbsp dried rosemary
1 tsp dried sage
1 tsp dried thyme
½ teaspoon salt
½ teaspoon ground black pepper
1 c. Parmesan cheese
Parmesan cheese to taste
Directions:
Heat oil in large dutch oven or soup pot over medium heat. Add onion and garlic, and sautee until tender and golden. Add dried spices and beans, and cook for 30 seconds. Slowly add broth and white wine, and bring to a summer. Cover and cook 30 minutes over low heat.

Mix in shredded turkey, and continue to cook over low heat for 20 minutes. Stir in cheese, salt and pepper. Season to taste.

Top with Parmesan cheese and serve.
Author:
.
Back to the Turkey Recipes home page.
Add a Review or Comment:
Conversions
3 cups
about 710ml (709.77 mililitres based on 236.59 mililitres in a US cup)
4 cups
about 946ml (946.36 mililitres based on 236.59 mililitres in a US cup)
½ cup
about 118ml (118.295 mililitres based on 236.59 mililitres in a US cup)
1 cup
about 237ml (236.59 mililitres based on 236.59 mililitres in a US cup)
Data:
Published: September 5, 2011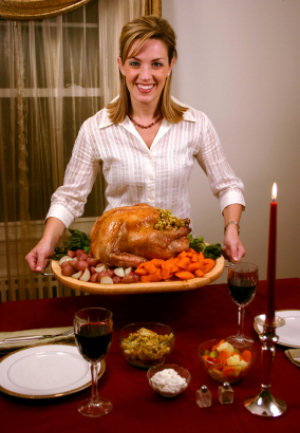 Similar Recipes:
Green Turkey Chili
Green bell peppers, celery, scallions, and green chili sauce make for a perfectly green turkey chili - and perfectly delicious!
Turkey Chili
This recipe has everything that makes a good chili: meat, beans, spices, and a rich sauce. Enjoy it over cooked noodles, rice, ...
Fried Turkey Cutlets
You've had chicken-fried steaks before, but you've got to try fried turkey cutlets. They're crisped, savory steaks served with ...