Green Turkey Chili

recipe
Green bell peppers, celery, scallions, and green chili sauce make for a perfectly green turkey chili - and perfectly delicious!
Ingredients:
4 tablespoons olive oil, divided
2 pound ground turkey
2 large green bell peppers, seeded, diced
6 celery stalks, diced
4 green onions, sliced
4 cloves garlic, minced
4 cups cooked white kidney beans, drained
3 cups chicken or vegetable broth
½ cup prepared green pepper chili sauce
½ cup chopped fresh parsley
1 teaspoon salt
Directions:
1) Heat 2 tablespoons oil in a large pot over medium. Add turkey and cook until browned, 6 to 8 minutes, stirring. Remove from pot and set aside. Drain excess liquid from pot.

2) Add remaining 2 tablespoons oil to pot. Add peppers, celery, onions, and garlic; cook until softened, stirring occasionally, about 5 minutes. Add beans, broth, chili sauce, and reserved turkey. Bring to a boil over high heat; lower to a simmer and cover. Cook 20 minutes, until vegetables are soft and chili is slightly thickened. Add parsley and salt; simmer 5 additional minutes and serve.
Back to the Turkey Recipes home page.
Add a Review or Comment:
Data:
Published: November 2, 2010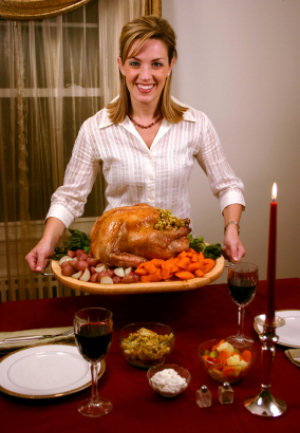 Similar Recipes:
Turkey Chili
This recipe has everything that makes a good chili: meat, beans, spices, and a rich sauce. Enjoy it over cooked noodles, rice, ...
White Bean and Turkey Chili
A surprisingly simple chili recipe, this White Bean and Turkey Chili uses dried herbs and white wine to create a sophisticated ...
Fried Turkey Cutlets
You've had chicken-fried steaks before, but you've got to try fried turkey cutlets. They're crisped, savory steaks served with ...