This recipe has everything that makes a good chili: meat, beans, spices, and a rich sauce. Enjoy it over cooked noodles, rice, or cornbread.
Ingredients:
1 tablespoon olive oil
1 pound ground turkey breast
2 tablespoons chili powder
1 teaspoon ground cumin
1 teaspoon dried parsley
1 teaspoon dried basil
½ teaspoon salt
¼ teaspoon black pepper
1 onion, chopped
1 red bell pepper, chopped
2 celery stalks, chopped
2 (15-ounce) cans kidney beans, drained
2 (15-ounce) cans stewed tomatoes, undrained
2 cups chicken or vegetable broth
½ cup red wine
Directions:
1) Heat oil in a large pot over medium. Add turkey and dried seasonings; cook until turkey is browned, about 5 minutes, stirring occasionally. Add onion, bell pepper, and celery; cook until softened, stirring, about 4 minutes.

2) Add remaining ingredients: bring to a boil over high heat. Lower to a simmer, cover, and cook 30 minutes.
Back to the Turkey Recipes home page.
Add a Review or Comment:
Data:
Published: November 2, 2010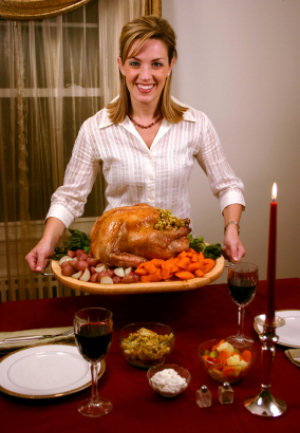 Similar Recipes:
Green Turkey Chili
Green bell peppers, celery, scallions, and green chili sauce make for a perfectly green turkey chili - and perfectly delicious!
Turkey Salad
A twist on the popular lunchtime classic, this turkey salad is the perfect way to use leftover turkey. When you are sick of Tha...
Turkey Tetrazzini
A much loved classic that brings joy to the coldest of winter days, this is an excellent way to use up leftover turkey. The dis...