Simple Deep Fried Turkey Breast

recipe
Frying turkey breast cutlets is the best way to preserve their juiciness while cooking. Serve these tasty cutlets with your favorite gravy.
Ingredients:
1 (3- to 4-pound) turkey breast
1 cup flour
2 teaspoons salt
½ teaspoon black pepper
1 to 2 gallons vegetable oil, as needed
Prepared gravy, for serving
Directions:
1) Heat oil in a large pot over high heat. Add enough oil to completely cover the turkey breast with about 2 inches to spare.

2) Slice turkey breast into ¼-inch slices. Set aside.

3) Combine flour, salt, and pepper in a medium bowl. Add turkey breasts; roll to coat. When oil is hot, add turkey; fry until lightly browned. Serve warm with gravy.
Back to the Turkey Recipes home page.
Add a Review or Comment:
Data:
Published: November 13, 2006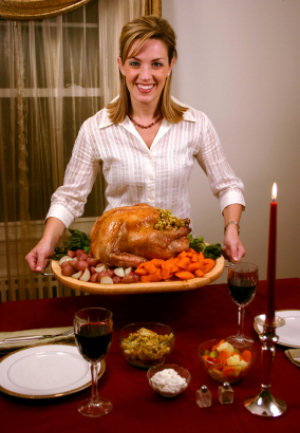 Similar Recipes:
Chipotle Turkey Wrap
A zesty and exciting take on a traditional turkey sandwich, this Chipotle Turkey wrap is versatile and easy to make. Leftover t...
Cheesy Turkey Burgers
Ground turkey is well known as a healthier alternative to the more traditional beef. This recipe involves stuffing the patties ...
Holiday Turkey Meatloaf
Get a taste of the holiday spirit without the fuss and time of roasting a whole turkey. This seasonal meatloaf recipe is a snap...