Holiday Turkey Meatloaf

recipe
Get a taste of the holiday spirit without the fuss and time of roasting a whole turkey. This seasonal meatloaf recipe is a snap to prepare for any lunch or dinner at home.
Ingredients:
1 tablespoon olive oil
1 cup minced red onion
2 cloves garlic, minced
1 carrot, diced
1 stalk celery, diced
1 cup chopped button mushrooms
1 teaspoon salt
½ teaspoon pepper
½ teaspoon dried thyme
1/3 cup ketchup
¼ cup chicken broth
1 cup breadcrumbs
1 large egg, lightly beaten
1 ½ pounds ground turkey
Directions:
1) Preheat oven to 350°F. Lightly grease a loaf pan.

2) Heat oil in a large skillet over medium. Add onion and cook until softened, stirring occasionally, about 4 minutes. Add garlic, carrot, and celery; cook until softened, about 3 minutes, stirring occasionally. Add mushrooms, salt, pepper, and thyme; cook until liquid released is evaporated, about 5 minutes, stirring.

3) Transfer mixture to a large bowl; add remaining ingredients and mix until just blended. Transfer to prepared pan, mounting in center. Bake until internal temperature reaches about 170°F, about 90 minutes. Let stand 15 minutes before slicing and serving.
Back to the Turkey Recipes home page.
Add a Review or Comment:
Conversions
1 cup
about 237ml (236.59 mililitres based on 236.59 mililitres in a US cup)
1/3 cup
about 79ml (78.7845 mililitres based on 236.59 mililitres in a US cup)
¼ cup
about 59ml (59.1475 mililitres based on 236.59 mililitres in a US cup)
1 ½ lb
about 680g (680.385 grams based on 453.59 grams in a pound)
Data:
Published: November 8, 2010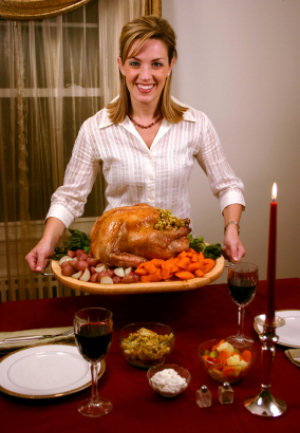 Similar Recipes:
Turkey Meatloaf
Looking for an easy dinner idea that will produce leftovers for lunch? This tasty meatloaf is your weeknight solution.
Baked Turkey Salad
This crisp-meets-creamy turkey salad is a fresh way to use up leftover Thanksgiving meat.
Turkey Salad
A twist on the popular lunchtime classic, this turkey salad is the perfect way to use leftover turkey. When you are sick of Tha...