Chipotle Turkey Wrap

recipe
A zesty and exciting take on a traditional turkey sandwich, this Chipotle Turkey wrap is versatile and easy to make. Leftover turkey is paired with chipotle mayo, crisp lettuce, and pepperjack cheese. Pack these wraps for a filling lunchtime snack, or serve them up with a fresh salad and potato chips for a memorable summer picnic.
Ingredients:
Wraps (makes 4):
4 large tortillas or sandwich wraps
2 c. cooked turkey, shredded into medium sized pieces
4 large leaves of romaine lettuce
1 c. shredded or sliced pepperjack cheese
1 large avocado
1 small yellow onion, cut into thin slices

Chipotle Mayonnaise:
3 tbsp fresh cilantro, minced
1 green onion, minced
1 tbsp minced can chipotles, chipotle paste, or chipotle flavored hot sauce
1 tbsp fresh lime juice
½ c. mayonnaise
Directions:
Combine mayonnaise, cilantro, green onion, lime juice and chipotle in small bowl, mix until smooth. Spread thickly onto each tortilla or sandwich wrap.

Assemble wraps by layering lettuce, turkey, cheese, avocado slices and onion slices in the middle of the tortilla or wrap. Roll up tortilla or wrap tightly, and cut in half. Serve immediately.
Author:
.
Back to the Turkey Recipes home page.
Add a Review or Comment:
Conversions
2 cups
about 473ml (473.18 mililitres based on 236.59 mililitres in a US cup)
1 cup
about 237ml (236.59 mililitres based on 236.59 mililitres in a US cup)
½ cup
about 118ml (118.295 mililitres based on 236.59 mililitres in a US cup)
Data:
Published: September 5, 2011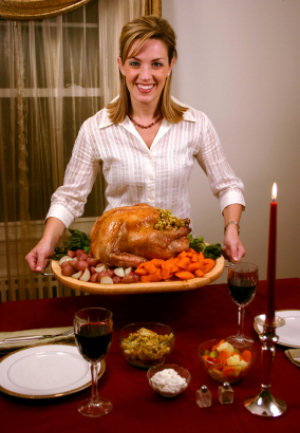 Similar Recipes:
Crockpot Turkey Legs
This easy recipe gives you a break from the usual roasted Thanksgiving turkey. Try these slow cooked turkey legs for a new twis...
Cheesy Turkey Burgers
Ground turkey is well known as a healthier alternative to the more traditional beef. This recipe involves stuffing the patties ...
Classic Turkey Soup
Fill your kitchen with memories of growing up and home-cooked meals with this turkey soup recipe. Fresh herbs, wine, and spices...