Roast Turkey with Chestnut Stuffing

recipe
Chestnuts are the archetypal preclude to the winter holiday season. Jumpstart your holiday cheer with this Thanksgiving turkey recipe.
Ingredients:
1 (12-pound) turkey, with neck and giblets removed
2 pounds chestnuts
2 cups butter
2 cups minced onions
2 cups minced celery
1 teaspoon dried thyme
1 teaspoon dried savory
1 teaspoon dried rosemary
10 cups dried breadcrumbs
Salt and black pepper, to taste
Directions:
1) Using a sharp knife, cut a cross on the flat side of each chestnut. Bring a medium pot of water to a boil; add chestnuts and cook 5 minutes. Drain. When cool enough to handle, remove shells from chestnuts and inner brown skins. Return chestnuts to pot; cover with fresh water and bring to a boil Cook 30 minutes, until tender. Drain and chop chestnuts.

2) Preheat oven to 350°F.

3) Melt butter in a large skillet over medium heat. Add onions, celery, thyme, savory, and rosemary; cook until softened, about 8 minutes, stirring occasionally. Transfer to a large mixing bowl; add breadcrumbs and reserved chestnuts and mix well. Set aside.

4) Wash turkey with cold water; pat dry. Place in a medium roasting pan; rub salt and pepper into cavities. Loosely spoon reserved stuffing mixture into cavities. Close skin with skewers or kitchen twine, and time drumsticks together.

5) Roast turkey 4 hours, placing a foil tent over the roasting pan during the last half of roasting time. Remove turkey from oven, place on serving platter, and let stand 20 minutes before carving.
Back to the Turkey Recipes home page.
Add a Review or Comment:
Conversions
2 lb
about 907g (907.18 grams based on 453.59 grams in a pound)
2 cups
about 473ml (473.18 mililitres based on 236.59 mililitres in a US cup)
10 cups
about 2366ml (2365.9 mililitres based on 236.59 mililitres in a US cup)
Data:
Published: November 2, 2010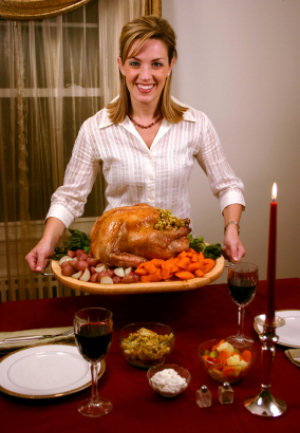 Similar Recipes:
Roasted Turkey with Fresh Herbs
A well roasted and succulent turkey is the perfect part of any holiday meal. Make this holiday season memorable with a juicy an...
Traditional Turkey Stuffing
Thanksgiving dinner is only as good as the turkey. Make yours a success with this traditional recipe for roasted turkey with st...
Chestnut Turkey Stuffing
Take the extra effort to cook this recipe from scratch - freshly baked chestnuts lend a smooth, buttery quality to stuffing tha...