Crockpot Turkey Legs

recipe
This easy recipe gives you a break from the usual roasted Thanksgiving turkey. Try these slow cooked turkey legs for a new twist on a standard holiday recipe.
Ingredients:
8 turkey legs
1 onion, chopped
2 carrots, chopped
2 stalks celery, chopped
3 cloves garlic, crushed
½ cup chicken broth
½ cup dry red wine
2 tablespoons butter
½ teaspoon dried thyme
½ teaspoon dried rosemary
½ teaspoon salt
¼ teaspoon black pepper
Directions:
1) Combine all ingredients in a medium slow cooker. Cook on low 7 to 9 hours. Serve warm.
Back to the Turkey Recipes home page.
Add a Review or Comment:
Data:
Published: November 13, 2006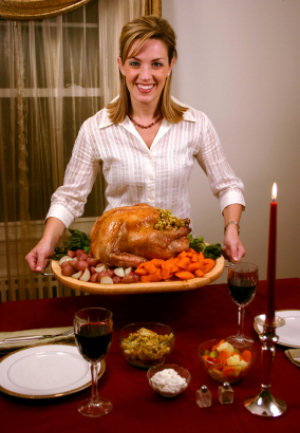 Similar Recipes:
Barbequed Turkey Legs
This is a great way to easily cook up a homemade movie night. Forget the takeout when you can slow cook your own finger-licking...
Chipotle Turkey Wrap
A zesty and exciting take on a traditional turkey sandwich, this Chipotle Turkey wrap is versatile and easy to make. Leftover t...
Fried Turkey Cutlets
You've had chicken-fried steaks before, but you've got to try fried turkey cutlets. They're crisped, savory steaks served with ...