Barbequed Turkey Legs

recipe
This is a great way to easily cook up a homemade movie night. Forget the takeout when you can slow cook your own finger-licking BBQ turkey legs.
Ingredients:
4 turkey drumsticks, thawed
½ cup chicken broth
¼ cup ketchup
¼ cup molasses
¼ cup apple cider vinegar
¼ cup finely minced onions
2 tablespoons Worcestershire sauce
½ teaspoon liquid smoke
½ teaspoon salt
¼ teaspoon cayenne
Directions:
1) Season drumsticks with salt and cayenne. Place in a medium slow cooker.

2) In a medium bowl, whisk together remaining ingredients. Pour over turkey, tossing to coat. Cover and cook on low 7 to 9 hours.
Back to the Turkey Recipes home page.
Add a Review or Comment:
Data:
Published: November 2, 2010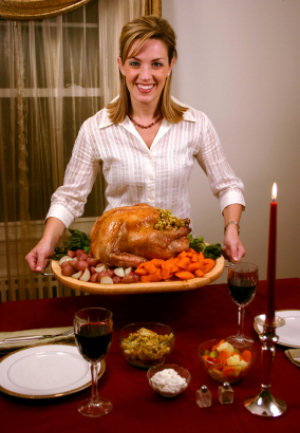 Similar Recipes:
Crockpot Turkey Legs
This easy recipe gives you a break from the usual roasted Thanksgiving turkey. Try these slow cooked turkey legs for a new twis...
Baked Turkey Salad
This crisp-meets-creamy turkey salad is a fresh way to use up leftover Thanksgiving meat.
Cheesy Turkey Burgers
Ground turkey is well known as a healthier alternative to the more traditional beef. This recipe involves stuffing the patties ...