A healthy and delicious alternative to traditional beef burgers, theses turkey burgers are perfect for family dinners or summer barbeques. The natural flavor of turkey is complimented with spices to make a memorable meal. Top with lettuce and onion, or try alternatives like smoky havarti cheese and grilled vegetables for a truly gourmet experience.
Ingredients:
3 lbs ground turkey
¼ seasoned bread crumbs
¼ c onion, finely diced
1 tbsp olive oil
2 egg whites, lightly beaten
¼ c. chopped fresh parsley
4 clove garlic, peeled and minced,
1 tsp salt
¼ tsp ground black pepper
1 tsp minced fresh thyme
1 tsp minced fresh rosemary
1 tsp minced fresh sage
Directions:
In small skillet heat olive oil over medium heat. Add minced garlic and onion and sautee until soft and translucent. Set aside.

In large bowl combine turkey, bread crumbs, and egg whites, Mix until combined. Add sauteed garlic and onions, fresh herbs, and salt and pepper. Form into 12 patties.

Cook in a medium skillet over medium heat, or place on grill over a medium heat, turning once. Burgers should read an internal temperature of 180 degrees F (85 degrees C).
Author:
.
Back to the Turkey Recipes home page.
Add a Review or Comment:
Conversions
3 lb
about 1.4kg (1.3608 kilograms based on 0.45359 kilograms in a pound)
¼ cup
about 59ml (59.1475 mililitres based on 236.59 mililitres in a US cup)
Data:
Published: September 5, 2011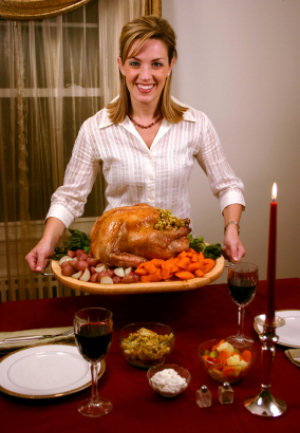 Similar Recipes:
Cheesy Turkey Burgers
Ground turkey is well known as a healthier alternative to the more traditional beef. This recipe involves stuffing the patties ...
Turkey Stir-Fry
This fast-cooking stir-fry recipe is perfect for late dinners in a rush. It happens quickly, so prep all your ingredients befor...
Turkey Stuffing Pie
Not quite a pie, but not quite a casserole, this satisfying dish is something in between. Filled with leftover turkey meat, a s...