This fast-cooking stir-fry recipe is perfect for late dinners in a rush. It happens quickly, so prep all your ingredients before lighting the stovetop.
Ingredients:
3 tablespoons butter, divided
1 onion, thinly sliced
1 red bell pepper, thinly sliced
2 cloves garlic, crushed
1 teaspoon minced fresh ginger
1 cup diced, cooked turkey
2 cups cooked rice, cold
2 tablespoons soy sauce
1 tablespoon rice vinegar
1 tablespoon orange juice
2 tablespoons chopped fresh basil or cilantro
2 scallions, chopped
Directions:
1) Melt two tablespoons butter in a large skillet over medium-high. Add onion, bell pepper, garlic, and ginger; cook until softened, stirring occasionally, about 5 minutes. Add turkey and cook until lightly browned, about 2 minutes, stirring.

2) Add remaining one tablespoon butter and rice to skillet; increase heat to high. Cook until rice is lightly browned, stirring, about 2 minutes. Add remaining ingredients and cook until liquid is absorbed, stirring, about 2 minutes. Serve immediately.
Back to the Turkey Recipes home page.
Add a Review or Comment:
Data: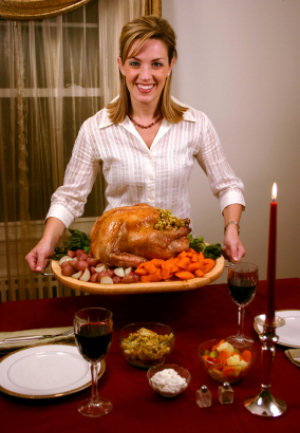 Similar Recipes:
Turkey Pot Pie
The perfect comfort food for a cold winter evening. Use up leftovers in this time-honored dinner classic, and add any extra veg...
Turkey Salad
A twist on the popular lunchtime classic, this turkey salad is the perfect way to use leftover turkey. When you are sick of Tha...
Turkey Giblet Gravy
Save the liver and giblets from your Thanksgiving turkey for this recipe! Itís a simple pan sauté that brings out the best flav...