Turkey with Cranberries and Bacon

recipe
These sweet and salty niblets make for an ideal holiday appetizer. Serve with champagne or sparkling fruit juice for an elegant dining experience.
Ingredients:
4 (4-ounce) turkey breasts
12 slices streaky bacon
Sauce:
12 ounces fresh cranberries
1 cup maple syrup
1 cup cranberry juice
Grated zest of 1 medium orange
Salt and pepper, to taste
Directions:
1) Make the sauce: combine all ingredients in a small pot. Bring to a boil over high heat; lower to a simmer and cook 10 minutes, stirring occasionally. Chill until service time.

2) Preheat oven to 375°F. Lightly grease a baking sheet.

3) Place each turkey breast between two sheets of plastic; gently pound to make each a ½-inch thick steak. Spread reserved cranberry sauce over one side of each steak. Roll up so that cranberry sauce is tucked inside each turkey steak. Wrap each rolled steak in three slices of bacon, holding with cocktail sticks if necessary.

4) Place on prepared baking sheet and cook 20 minutes, until turkey is cooked and bacon is slightly crisp. Serve warm.
Back to the Turkey Recipes home page.
Add a Review or Comment:
Conversions
12 oz
about 340g (340.194 grams based on 28.3495 grams in an ounce)
1 cup
about 237ml (236.59 mililitres based on 236.59 mililitres in a US cup)
Data:
Published: November 2, 2010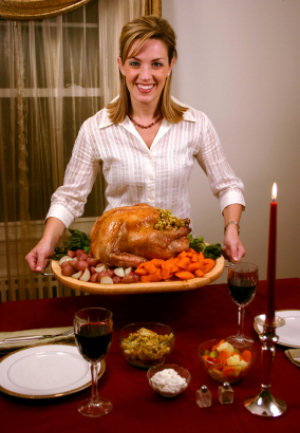 Similar Recipes:
Roast Turkey with Chestnut Stuffing
Chestnuts are the archetypal preclude to the winter holiday season. Jumpstart your holiday cheer with this Thanksgiving turkey ...
Roasted Turkey with Fresh Herbs
A well roasted and succulent turkey is the perfect part of any holiday meal. Make this holiday season memorable with a juicy an...
Turkey Tetrazzini
A much loved classic that brings joy to the coldest of winter days, this is an excellent way to use up leftover turkey. The dis...