A twist on the popular lunchtime classic, this turkey salad is the perfect way to use leftover turkey. When you are sick of Thanksgiving leftovers, turn to this versatile and simple recipe to spice up your lunchtimes. Add dried
cranberries
and granny smith
apples
to add a bit of sweetness and crunch, or substitute dried apricots for a tasty surprise.
Ingredients:
4 cups cooked turkey, cut into bite sized pieces.
½ cup mayonnaise
½ lemon, juiced
salt and pepper
2 small apples, peeled, cored and diced
½ cup raisins, dried cranberries or dried apricots
½ cup roasted sunflower seeds or slivered almonds
Directions:
In a large bowl, combine turkey, mayonnaise, and lemon juice. Toss gently to combine. Add dried fruit, nuts, and apples and stir. Season with salt and pepper to taste.

Place in airtight container and refrigerate at least two hours, or overnight. Serve cold.
Author:
.
Back to the Turkey Recipes home page.
Add a Review or Comment:
Data:
Published: September 5, 2011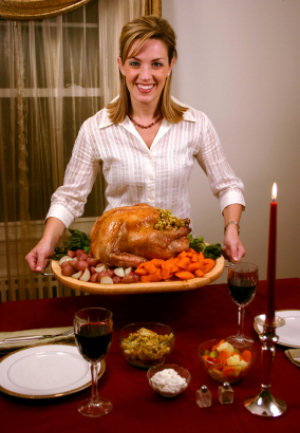 Similar Recipes:
Baked Turkey Salad
This crisp-meets-creamy turkey salad is a fresh way to use up leftover Thanksgiving meat.
Turkey Meatloaf
Looking for an easy dinner idea that will produce leftovers for lunch? This tasty meatloaf is your weeknight solution.
Turkey Chili
This recipe has everything that makes a good chili: meat, beans, spices, and a rich sauce. Enjoy it over cooked noodles, rice, ...