Asian-Inspired Turkey Lettuce Cups

recipe
A healthy and delicious treat that is perfect for lunch or dinner, these Turkey Lettuce Cups combine fresh ingredients and Asian-inspired seasoning to make a dinner that is as delicious as it is healthy. Ground turkey is seasoned and simmered to perfection, then served in crisp lettuce cups and topped with grated vegetables.
Ingredients:
2 tbsp soy sauce
2 tbsp sugar
2 tsp fish sauce
1 small onion, minced
1 tbsp fresh ginger, peeled and minced
2 large garlic cloves, peeled and minced
½ tsp cayenne pepper
1 lb lean round turkey
Lettuce leaves (Bibb or Boston varieties work well, as does Iceberg)
½ c green onions, diced
1 carrot, grated or julienned
½ c bean sprouts (optional)
½ c. minced onion
½ c. chopped peanuts
Directions:
In a small bowl combine soy sauce, sugar, and fish sauce. Stir until sugar is dissolved.

Heat oil in a large skillet over high heat. Add onion, ginger, and garlic and stir until fragrant, about 30 seconds. Add turkey and cayenne pepper, and cook until almost cooked through, or about 4 to 5 minutes. Add soy sauce mixture and stir until meat is cooked, about two minutes more.

Prepare lettuce leaves by washing and cutting off bottoms of leaves. Select leaves that will hold turkey, and spoon evenly into lettuce leaves. Top with green onion, bean sprouts, carrots, onion, and peanuts.
Author:
.
Back to the Turkey Recipes home page.
Add a Review or Comment:
Conversions
1 lb
about 454g (453.59 grams based on 453.59 grams in a pound)
½ cup
about 118ml (118.295 mililitres based on 236.59 mililitres in a US cup)
Data:
Published: September 5, 2011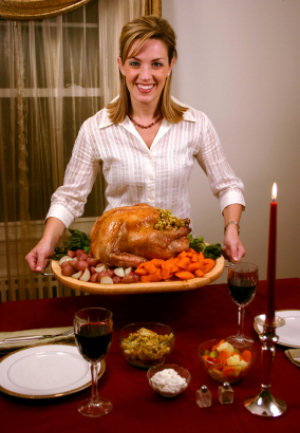 Similar Recipes:
Barbequed Turkey Legs
This is a great way to easily cook up a homemade movie night. Forget the takeout when you can slow cook your own finger-licking...
Old-Fashioned Turkey Noodle Soup
This classic recipe is the perfect way to use up holiday leftovers. Start with the stock, which can take up to 24 hours to make...
Roasted Turkey with Fresh Herbs
A well roasted and succulent turkey is the perfect part of any holiday meal. Make this holiday season memorable with a juicy an...